November 25, 2011 by alunparry
Greedy Fingers – New Song For The N30 Strikes
Greedy Fingers – Alun Parry by alunparry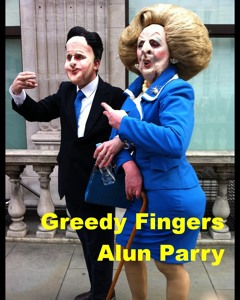 Bolton UNISON commissioned me to write a song supporting the strikes about to take place on November 30th.
So here it is. Enjoy! It's called Greedy Fingers.
Click here to download Greedy Fingers from iTunes
There is no crisis. Only capitalism is in crisis, but we don't need capitalism. There is no crisis with regard to anything real. All attempts to worsen our living standards are purely arbitrary. Good luck on November 30th.
This track will be available as a single on iTunes over the next couple of days.
Big thanks to Barry Briercliffe for recording the track and being an all round good egg as ever.
Photo Credit: Bridgid Dineen




Lyrics
I know a man who tried to rob a bank but he did fail
They dragged him to the courthouse and they sent him off to jail
When people rob the banks they are securely locked away
When bankers rob the people they are given extra pay
Get your greedy fingers off the workers pay
Your greedy thieving fingers off the workers pay
Tens and tens of thousands are on strike today
(sayin') Get your greedy fingers off the workers pay
There's not really a crisis no matter what they say
There are no less factories than we had yesterday
The same amount of workers, same stuff to make things from
So why do they keep telling us how bad things have become
Get your greedy fingers off the workers pay
Your greedy thieving fingers off the workers pay
Tens and tens of thousands are on strike today
(sayin') Get your greedy fingers off the workers pay
No asteroid has struck the earth as far as we all know
There is no global drought that means that things no longer grow
There is no epidemic meaning workers are not fit
How can this be a crisis when nothing's changed a bit
Get your greedy fingers off the workers pay
Your greedy thieving fingers off the workers pay
Tens and tens of thousands are on strike today
(sayin') Get your greedy fingers off the workers pay
Our wealth is only measured by the things we can create
It's only rich men's orders that have shut the factory gate
We have the same ability to make stuff as before
Let's keep on making things we need and not make people poor
Get your greedy fingers off the workers pay
Your greedy thieving fingers off the workers pay
Tens and tens of thousands are on strike today
(sayin') Get your greedy fingers off the workers pay
So I am here to tell you of the truth that they conceal
The problem's with their system not with anything that's real
Let's keep our jobs and pensions, there's a fairer world to choose
The system is the problem, it's the system we should lose
Get your greedy fingers off the workers pay
Your greedy thieving fingers off the workers pay
Tens and tens of thousands are on strike today
(sayin') Get your greedy fingers off the workers pay