October 19, 2009 by alunparry
Liverpool Acoustic Live Needs Your Help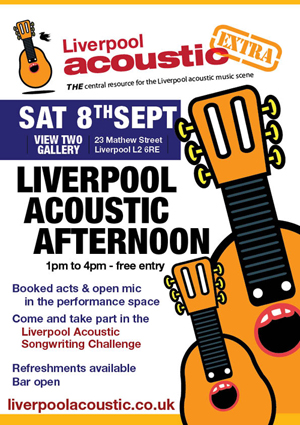 Just got this from my mate Graham Holland at Liverpool Acoustic Live. You'll remember they co-promoted my album launch, run a fantastic website, and a cracking monthly acoustic gig.
Unfortunately the person who used to look after the door for the Liverpool Acoustic Live event at the View Two Gallery can no longer make it due to changing work committments.
This means that they're looking for one or two people who would be willing and able to help out. It's nothing too taxing – all you need to do is to open the door to let people in, take their payment, and direct them up to the top floor. Nothing to it really.
They need someone from 8.00pm to 10.15pm once a month. The successful person will get a free drink or two, and can come up and enjoy the second half of the gig for free. The person will also be paid.
If you can help, or know someone else who might want to do this for them, please get in touch. Just email [email protected]
The next Liverpool Acoustic Live is this coming Friday 23rd October featuring Mark Wilson, Zoe Nicol, The Complete Unknown, Daniela Bove & Nicole Collarbone, along with Graham himself. All the fun takes place at The View Two Gallery on Matthew Street (next door to Lennon's Bar).