September 2, 2011 by alunparry
Otis Gibbs Playing In Liverpool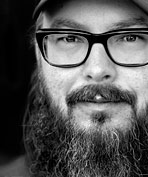 Fans of left wing music are in for a treat on Tue 20th September when Otis Gibbs comes to The Phil.
If you thought that the days of rambling folk artists akin to Woody Guthrie, Jack Elliott or Bob Dylan were as dead as the American dream they we're out searching for, then Otis Gibbs is the man to prove you wrong.
Billy Bragg included Gibbs in his list for The Wall Street Journal of his 'Top Five Songs With Something To Say'.
His songs are uplifting and biting, and I'm told he's a really nice fella too.
Get your tickets from The Phil box office or at http://www.liverpoolphil.com/7343/events-contemporary-music/otis-gibbs.html
You'll find a video clip of him there too in case you've not heard him before.
You will love him though, and that authentic gravel voice.